About Me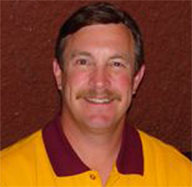 Born April 2, 1954 in St. Louis, MO. My dad was in the Marine Corps for 30 years so we moved often:
1954-1958 in St. Louis, MO, 1959-1963 in Oceanside, CA, 1964-1968 in Pearl City, HI
1969-1971 in Barstow, CA, 1971-1972 in Moline, IL, 1972-1976 in Tempe, AZ
1976 - 3 summer months in Denver, CO, 1976 Fall-1980 in Salt Lake City, UT
Fall 1980 to present in the Phoenix, AZ area
I graduated with a B.S. in General Business from Arizona State University in 1976 and received my MBA from the University of Phoenix in 1986. Married to Judy since June 1988. No kids, but 2 dogs (Bailey and Parker) and someday another quarter horse.
My love in life (not counting Judy) is Amateur Radio and Men's Senior Baseball. I've been a ham since 1972 and have been playing baseball continously since I was a young boy. My interest in Amateur Radio was a result of my dad being a ham. His call is KE6SE (SK). I became KC7V in the summer of 1980 and was first licensed in 1972. This hobby has taken me all around the world. I've been fortunate enough to operate from 36 countries. I am a founding member of the VooDoo Contest Group and we have operated from various West African nations since 1994. My first choice of an operating mode is CW! (morse code for you non-hams). I've been a member of the Central Arizona DX Association since 1980 and helped to recently form the Arizona Outlaws Contest Club.